Vacuum Fittings Ultra-high Vacuum Flange Fitting & Components KF CF ISO
Product Detail
Product Tags
| | |
| --- | --- |
| KF Braided Flexible Hoses | KF 90o Elbows |
| KF Flexible Hoses | KF Tees |
| KF Compressible Bellows Connections | KF 4-Way Crosses |
| ISO Compressible Bellows Connections | KF Unequal Tees |
| ISO Flexible Hoses | ISO Full Nipples |
| CF Flexible Hoses-1 Flange Rotatable | ISO 90o Elbows |
| CF Compressible Bellows Connections-1 Flange Rotatable | ISO Tees |
| Conical Reducers | ISO 4-Way Crosses |
| 90o Elbows | CF Nipples-Fixed |
| 90o Elbows with Tangents | CF Nipples-1 Flange Rotatable |
| 45o Elbows | CF 90o Elbows-Fixed |
| 45o Elbows with Tangents | CF 90o Elbows-Rotatable |
| 4-Way Crosses | CF Tees-Fixed |
| Unequal Tees | CF 4 Way Crosses-Fixed |
| Unequal 4-Ways Crosses | CF 4-Way Crosses-2 Flange Rotatable |
* Shanteng vacuum fittings are convenient to build block connection with vacuum components. They offer great flexibility in the design and construction of high and ultra-high vacuum system.
 * The Flexible hoses have concertina walls made by pressurizing a thin-wall tube, they can be bent but not be compressed. The other type is Flexible bellows connections, this type can bent and compressed. When possible, design the system so that the bellows make only a single bend or curve. Multiple bends concentrate stress at minimum radius points, reducing life expectancy during flexing or vibration. An elbow on one or both ends will usually eliminate multiple bends.
* The vacuum fittings are used for piping systems.
*The vacuum fittings are made from welded pipe or tube.
*Flexible hoses : 304 S.S.
*Flanges : 304 S.S. (Other material available upon request)
*Fittings : 304 S.S. (Other material available upon request)
*Flexible bellows connections : 316Ti, 321 S.S., 316L S.S, 316 S.S., 304 S.S.
*Larger or special size is available 
*Seamless pipe or tube are available upon request.
Shanteng vacuum is supplying vacuum solutions for Semiconductor industry.
We offer the ultra high vacuum parts accessories,hardware, components,including the KF,CF,ISO ASA flanges , fittings; Also we make the vacuum ball valves, gate valves and angle valves, and vacuum chambers. We are making the processes more efficient,reducing lead time, saving the cost for our customers.
All inquiries or samples request ,please send our email 2806936826@qq.com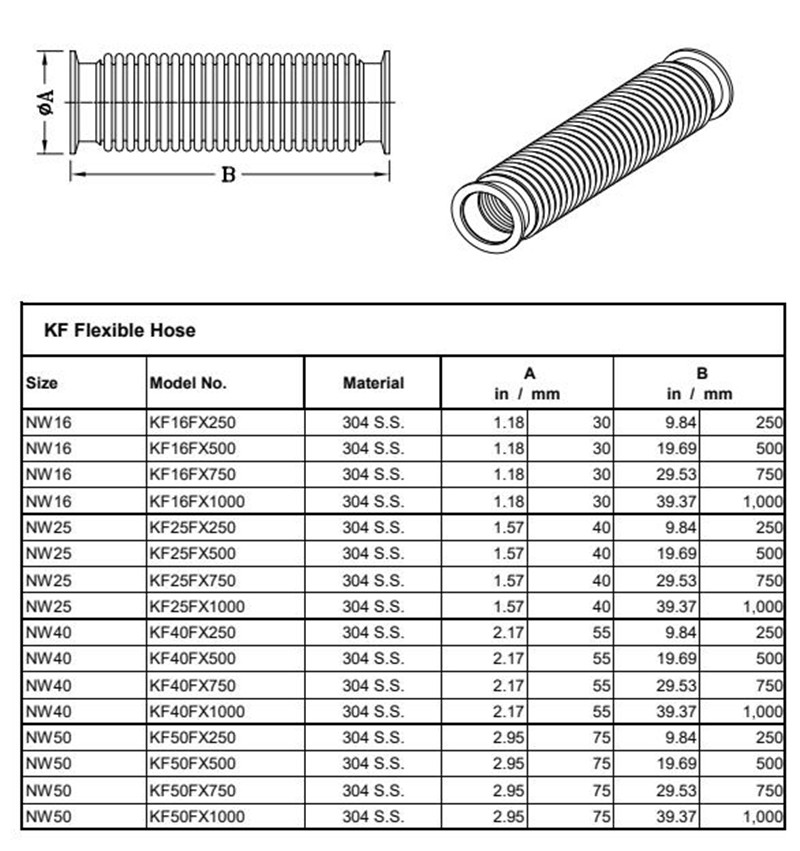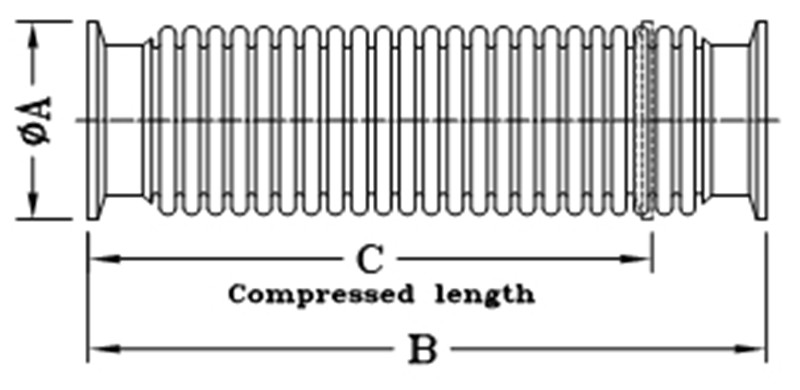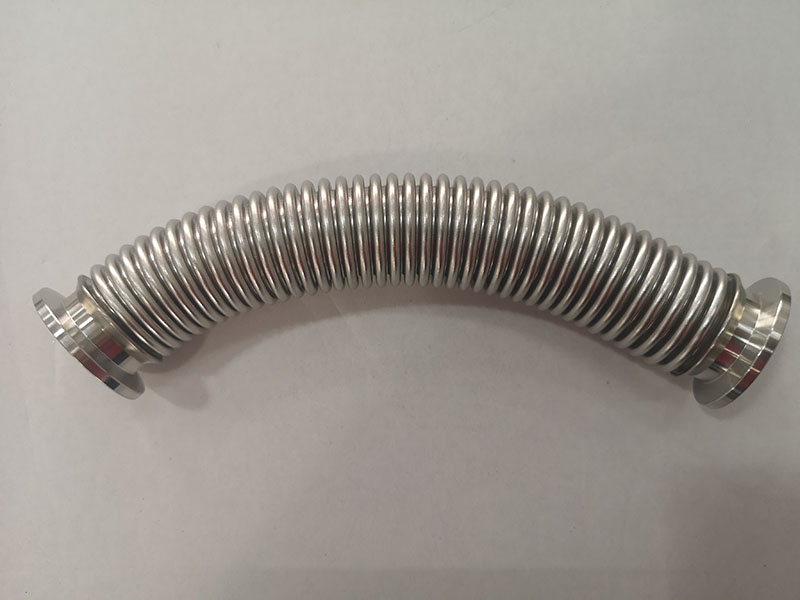 Size

Model No.

Material

A
in  /  mm

B
in  /  mm

C
in  /  mm

NW10

KF10FXC100

304 S.S.

1.18

30

3.94

100

3.15

80

NW16

KF16FXC100

304 S.S.

1.18

30

3.94

100

3.15

80

NW25

KF25FXC100

304 S.S.

1.57

40

3.94

100

3.15

80

NW40

KF40FXC100

304 S.S.

2.17

55

3.94

100

3.15

80

NW50

KF50FXC100

304 S.S.

2.95

75

3.94

100

3.15

80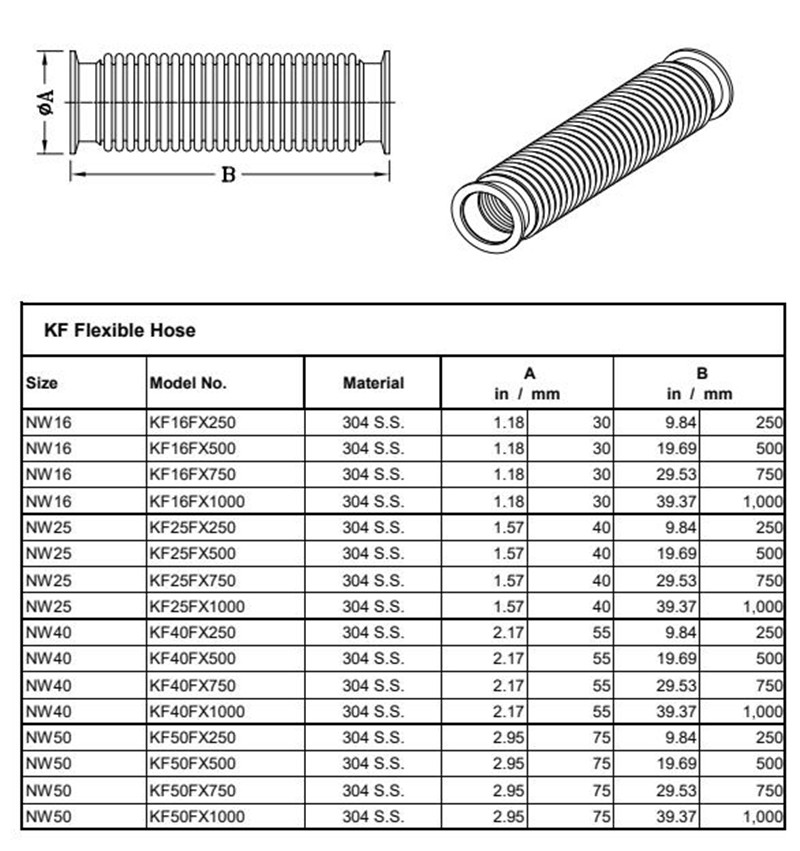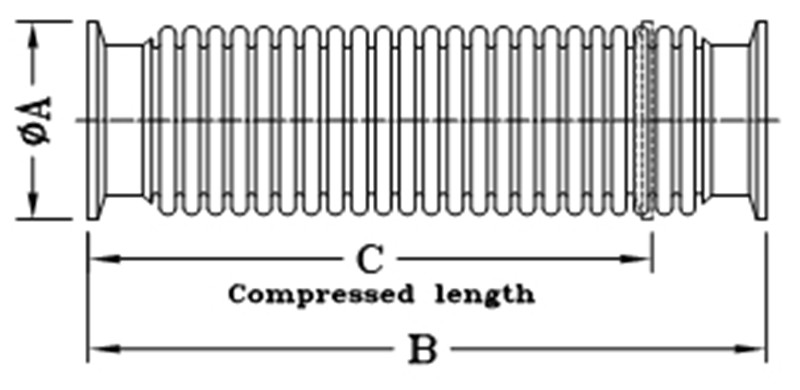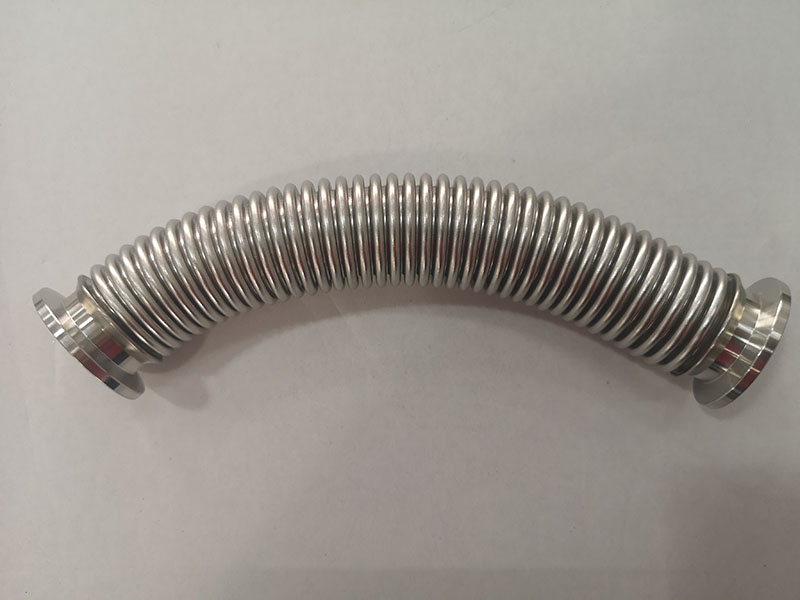 Size

Model No.

Material

A
in  /  mm

B
in  /  mm

C
in  /  mm

NW10

KF10FXC100

304 S.S.

1.18

30

3.94

100

3.15

80

NW16

KF16FXC100

304 S.S.

1.18

30

3.94

100

3.15

80

NW25

KF25FXC100

304 S.S.

1.57

40

3.94

100

3.15

80

NW40

KF40FXC100

304 S.S.

2.17

55

3.94

100

3.15

80

NW50

KF50FXC100

304 S.S.

2.95

75

3.94

100

3.15

80
KF Compressible Bellows Connections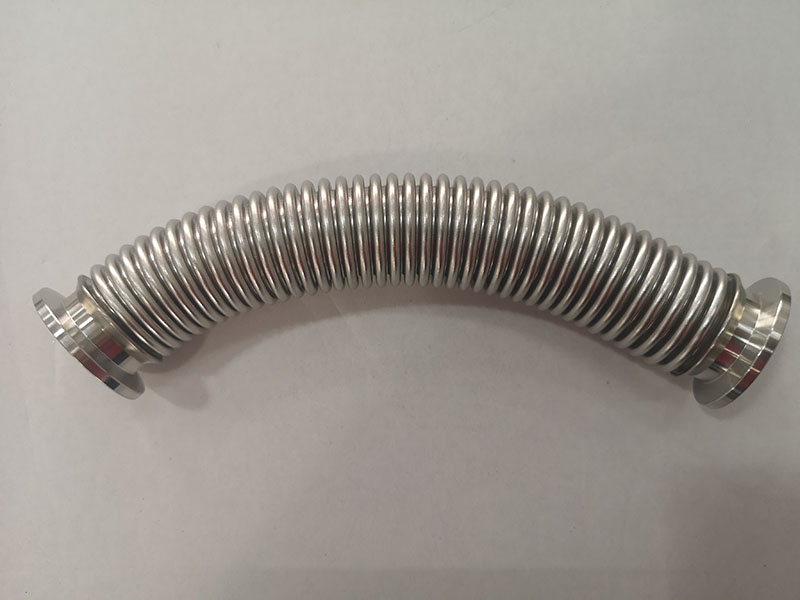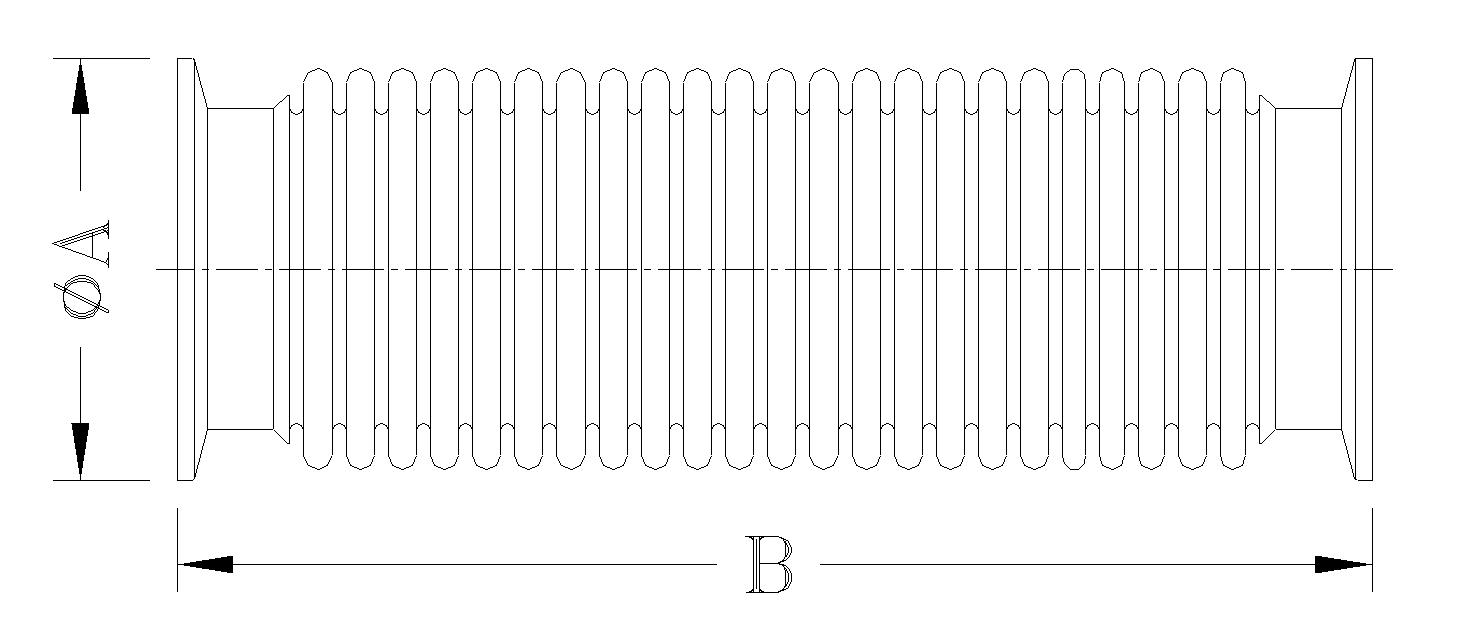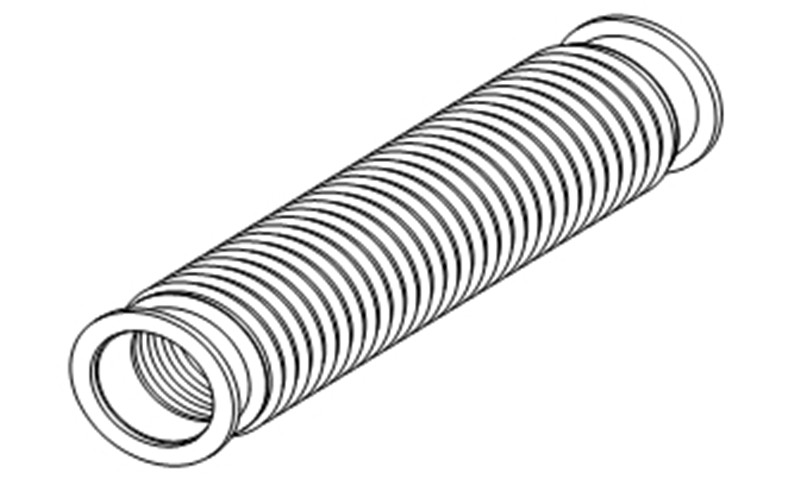 Size

Model No.

Material

A
in  /  mm

B
in  /  mm

NW16

KF16FX250

304 S.S.

1.18

30

9.84

250

NW16

KF16FX500

304 S.S.

1.18

30

19.69

500

NW16

KF16FX750

304 S.S.

1.18

30

29.53

750

NW16

KF16FX1000

304 S.S.

1.18

30

39.37

1,000

NW25

KF25FX250

304 S.S.

1.57

40

9.84

250

NW25

KF25FX500

304 S.S.

1.57

40

19.69

500

NW25

KF25FX750

304 S.S.

1.57

40

29.53

750

NW25

KF25FX1000

304 S.S.

1.57

40

39.37

1,000

NW40

KF40FX250

304 S.S.

2.17

55

9.84

250

NW40

KF40FX500

304 S.S.

2.17

55

19.69

500

NW40

KF40FX750

304 S.S.

2.17

55

29.53

750

NW40

KF40FX1000

304 S.S.

2.17

55

39.37

1,000

NW50

KF50FX250

304 S.S.

2.95

75

9.84

250

NW50

KF50FX500

304 S.S.

2.95

75

19.69

500

NW50

KF50FX750

304 S.S.

2.95

75

29.53

750

NW50

KF50FX1000

304 S.S.

2.95

75

39.37

1,000
KF-KF Conical Reducing Adaptor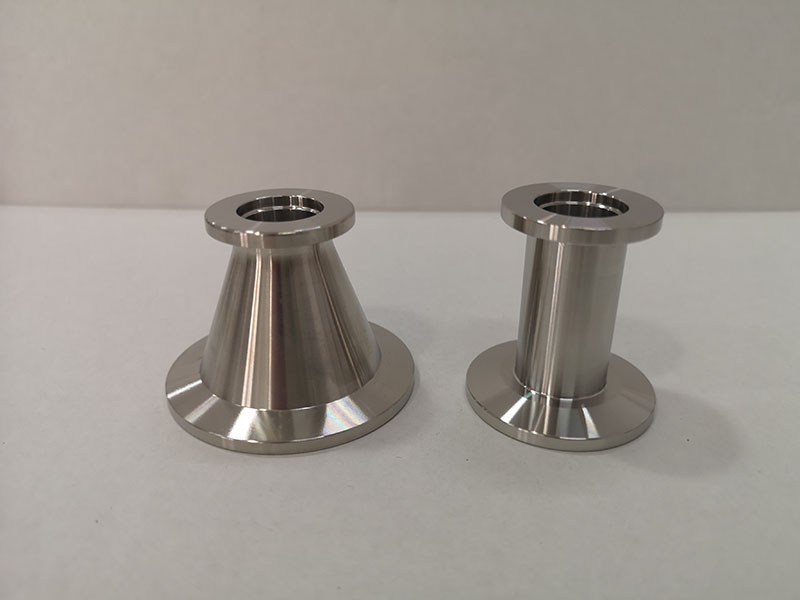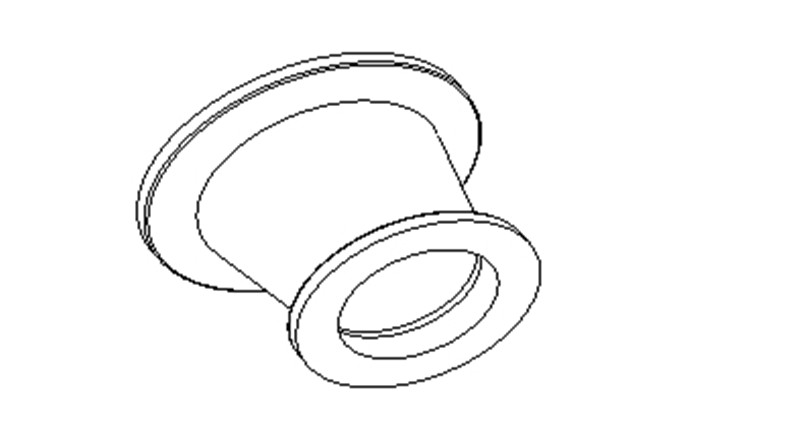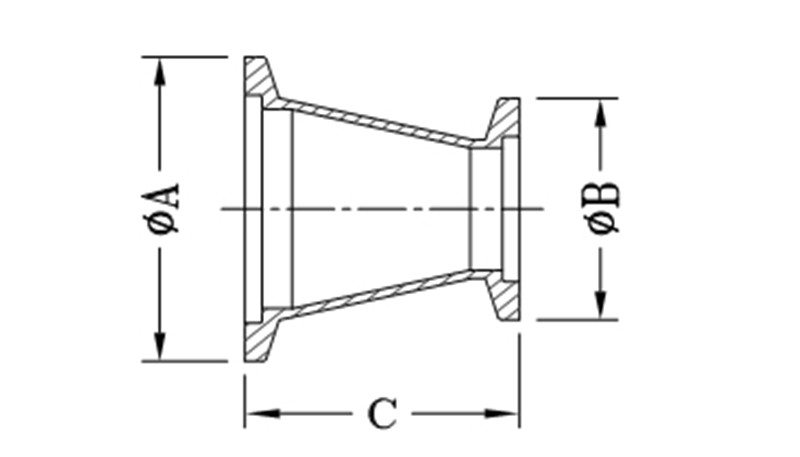 Size

Model No.

Material

A
in               mm

B
in               mm

C
in               mm

NW25 x NW16

KF25RA16

304 S.S.

1.57

40

1.18

30

1.57

40

NW40 x NW16

KF40RA16

304 S.S.

2.17

55

1.18

30

1.57

40

NW40 x NW25

KF40RA25

304 S.S.

2.17

55

1.57

40

1.57

40

NW50 x NW16

KF50RA16

304 S.S.

2.95

75

1.18

30

1.57

40

NW50 x NW25

KF50RA25

304 S.S.

2.95

75

1.57

40

1.57

40

NW50 x NW40

KF50RA40

304 S.S.

2.95

75

2.17

55

1.57

40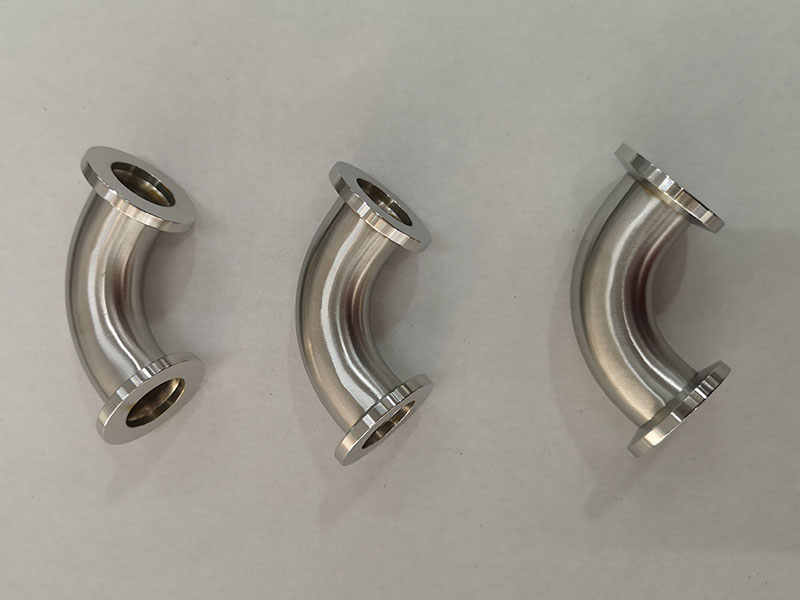 Size

Model No.

Material

A
in / mm

B
in / mm

C
in / mm

R
in / mm

NW 16

KF16EL90A

304 S.S.

1.51

38.30

0.75

19.05

1.18

30

1.13

28.6

Nw 25

KF25EL90A

304 S.S.

2.21

56.2

1.0

25.4

1.57

40

1.5

38.1

Nw 4o

KF40EL90A

304 S.S.

3.09

78.4

1.5

38.1

2.17

55

2.25

57.2

NW 5o

KF50EL90A

304 S.S.

4.21

107.00l

2.0ol

50.8o

2.95

75

3.00

76.2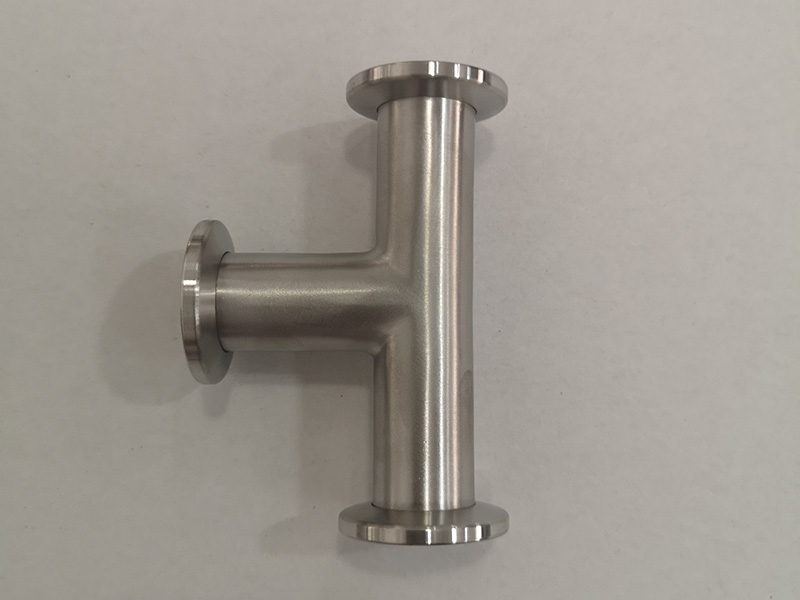 Size

Model No.

Material

A

in / mm

B

in / mm

C

in / mm

D

in / mm

NW 16

KF16TA

304 S.S.

1.51

38.3

0.75l

19.05

1.18|

3o

3.02

76.6

iW 25

KF25TA

304 S.S.

2.02

51.4

1.0o

25.4

1.57

40

4.05

102.8

Nw 4o

KF40TA

304 S.S.

2.4

61.0o

1.5o

38.1

2.17

55

4.8

122

Nw 5o

KF50TA

304 S.S.

3.15

80.0o

2.0o

50.8

2.95

75

6.3o

16o.0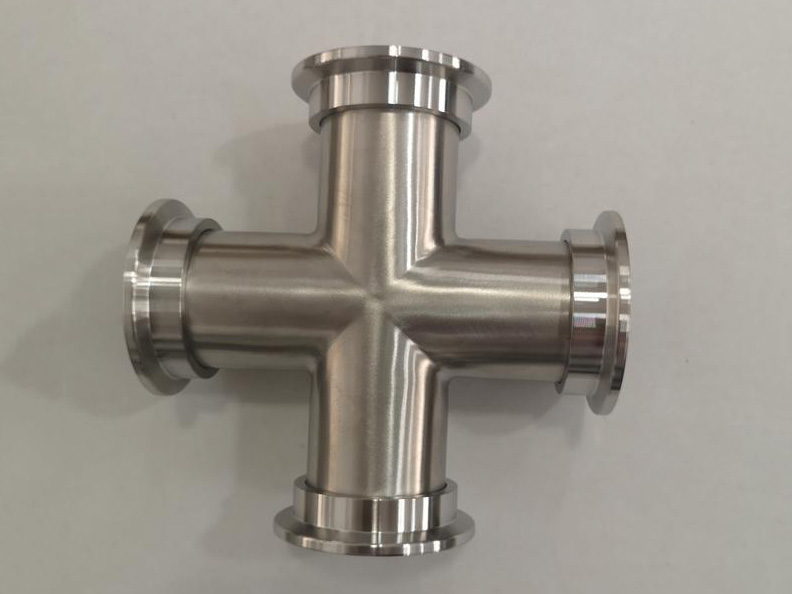 Size

Model No.

Material

A
in / mm

B
in / mm

c
in / mm

D
in / mm

NW 16

KF16XA

304 S.S.

1.51

38.3

0.75

19.05

1.18

3o

3.02

76.6

NW 25

KF25XA

304 S.S.

2.02

51.4

1.oo

25.4

1.57

40

4.05

102.8

NW 4o

KF40XA

304 S.S.

2.4

61

1.5

38.1

2.17

55

4.8

122.0

NW 5o

KF50XA

304 S.S.

3.15

80.o

2.0o

50.8

2.95

75

6.3

160.0
---
---
Write your message here and send it to us